Virtual Tool Cupboard | e-lab
NFB: National Film Board of Canada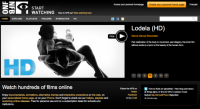 NFB.ca is the National Film Board of Canada's online Screening Room. They have nearly 1500 films, clips and trailers online, free for personal use and on a subscription basis for schools and institutions.

Thier collection includes documentaries, animations, experimental films and fiction. They showcase films that take a stand on issues of global importance that matter to Canadians – stories about the environment, human rights, international conflict, the arts and more.

They also have a selection of animated films for both adults and children from talented filmmakers such as Cordell Barker, Chris Landreth, Ryan Larkin, Richard Condie, Ishu Patel, Caroline Leaf, and many, many more.

You'll discover new releases, old favourites and Canadian classics along with works from many of Canada's legendary directors. They have films for all ages, in both French and English. You can watch films in Standard Definition, High Definition and even 3D.
Athabasca University does not endorse or take any responsibility for the tools listed in this directory.
New entries