Virtual Tool Cupboard | e-lab
Rossetti Archive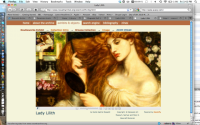 The Rossetti Archive facilitates the scholarly study of Dante Gabriel Rossetti, the painter, designer, writer, and translator who was, according to both John Ruskin and Walter Pater, the most important and original artistic force in the second half of the nineteenth century in Great Britain. In Whistler's famous comment, "He was a king".

The Archive provides students and scholars with access to all of DGR's pictorial and textual works and to a large contextual corpus of materials, most drawn from the period when DGR's work first appeared and established its reputation (approximately 1848-1920), but some stretching back to the 14th-century sources of his Italian translations. All documents are encoded for structured search and analysis. The Rossetti Archive aims to include high-quality digital images of every surviving documentary state of DGR's works: all the manuscripts, proofs, and original editions, as well as the drawings, paintings, and designs of various kinds, including his collaborative photographic and craft works. These primary materials are transacted with a substantial body of editorial commentary, notes, and glosses.
Athabasca University does not endorse or take any responsibility for the tools listed in this directory.
New entries