Virtual Tool Cupboard | e-lab
CBC Digital Archives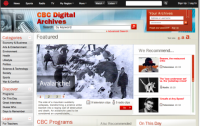 With the launch of the CBC Digital Archives website - and its French counterpart, les Archives de Radio-Canada - you can listen and view generations of journalists, technicians, performers, politicians, artists and people from every walk of life who have left their mark on programs and broadcasts recorded somewhere among the millions of tapes, discs, films, documents and artifacts that fill the CBC/Radio-Canada archives.
Although Canadian Heritage funds the project, the CBC and Radio-Canada have absolute editorial independence.
The CBC/Radio-Canada Digital Archives Web site project was founded on three principles - to inform, to enlighten and to educate Canadians about their past. Though the primary audience is educational, the site was designed and built with every Canadian in mind. Everyone who visits will enjoy its unique perspective on Canada's history.
Athabasca University does not endorse or take any responsibility for the tools listed in this directory.
New entries
Categories