Virtual Tool Cupboard | e-lab
RSA Comment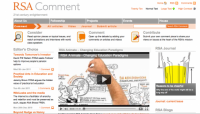 For over 250 years the Royal Society for the encouragement of Arts, Manufactures and Commerce (RSA) has been a cradle of enlightenment thinking and a force for social progress. Our approach is multi-disciplinary, politically independent and combines cutting edge research and policy development with practical action.
They encourage public discourse and critical debate by providing platforms for leading experts to share new ideas on contemporary issues, through public events programme, RSA Journal and RSA Comment.
Athabasca University does not endorse or take any responsibility for the tools listed in this directory.
New entries