Virtual Tool Cupboard | e-lab
Digital Tools used in the Arts and Humanities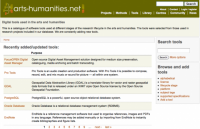 Digital tools used in the arts and humanities

This is a catalogue of software tools used at different stages of the research lifecycle in the arts and humanities. The tools were selected from those used in research projects included in our database. We are constantly adding new tools.
Athabasca University does not endorse or take any responsibility for the tools listed in this directory.
New entries