Virtual Tool Cupboard | e-lab
Digital Humanities Questions & Answers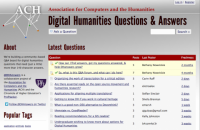 A community-based Q&A board for digital humanities questions that need (just a little) more than 140 character answers.
Includes categories such as:
Applications, Tools, Formats – help with using software, suggestions of tools or file formats to use
Databases & Data Structures – flatfiles? sql? hierarchical data? uml? all these and more
Interfaces, Design & Usability – all things user-centred
DH in the Classroom – on teaching DH topics and integrating technology with teaching
Markup & Metadata – all things encoding (XML, XSLT, TEI, etc.) and information metadata
Archaeology & Cultural Heritage – visualization, analysis, museum studies: old meets new
New Media & Games – interactive arts, game studies, etc.
Programming – any programming language (PHP, Ruby, Java, Lisp, etc.) or about which language to use
Project Management & DH Professions – project management tools and tips, discussion of DH roles
About DHAnswers – how to use this site, Twitter integration, etc.
Athabasca University does not endorse or take any responsibility for the tools listed in this directory.
New entries
Categories